Automated Conveyors from CASI
CASI manufactures custom automated conveyor systems designed for dynamic material handling and items in challenging environments. Our conveyors run on 24 Volt power with the capacity to move heavy loads up to 130lbs. Making the transport of materials efficient and safe.
Choosing the right conveyor for your needs can be simple. From order fulfillment to heavy materials, our expert engineers have deployed a wide variety of applications. Our software engineers ensure seamless software integration.
Types Of Conveyors
Rigid Conveyor – Our 24 Volt DC conveyor is the mainstay of CASI's line of intelligent types of automated systems. Its design allows for a powered belt conveyor-styled system or a motorized roller system.
Flexible Conveyor – Our PowerFlex accumulation and transport provides a durable and efficient solution for your conveying needs.
Moves products and materials in challenging and dynamic environments
Heavy Duty – Support heavy loads up to 130lbs
No changes to your facility footprint are required
Heavy Duty – Support heavy loads up to 130lbs

Our CASi-Conveyor PowerFlex is made in America with Lozier's expertise in manufacturing and CASI's engineering. Together, Lozier + CASI are providing maximum production efficiency, ensuring the best lead time in the industry at a desirable ROI.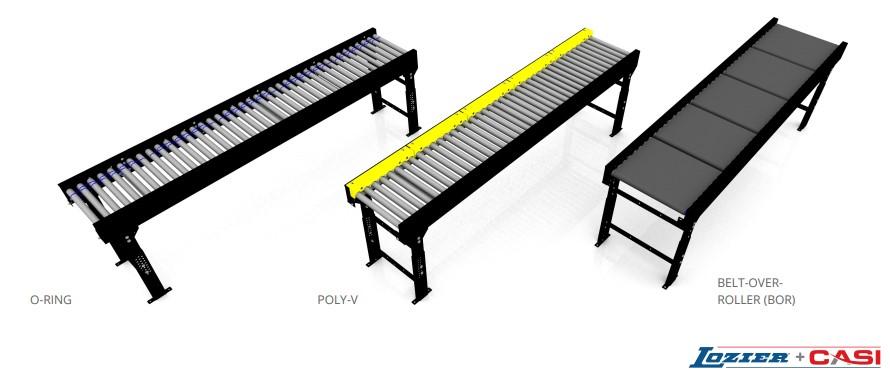 CASI's modular line of powered conveyors is the foundation for each of our system solutions. Zero Pressure Accumulation (ZPA) reduces the speed of the product when needed. Our 24-Volt DC roller conveyor system works for a wide range of applications including belt roller, low profile, and belted curves.
Each section is plug-and-play and can include casters making installation a breeze. Our unique design provides a smooth and quiet operation that is safe and easy to maintain. Our 24-Volt DC Conveyor additionally saves power through sectioning zones, not in use. We use powered rollers and built-in logic to eliminate the need for electrical control cabinets.
Benefits
Easy to Install
Runs on Demand
Flexible Applications
Low profile
Quiet and Efficient
Safe and Easy to Maintain
Features
24V DC Power – Lower Carbon Footprint
Zero Pressure Accumulation (ZPA)
Modular line
Belt over roller