SolidWebReports™ (SWR™) is a Warehouse Inventory Reporting Software that is a companion product to the SolidSuite designed by Cornerstone Automation Systems. SWR™ is a configurable tool that enables your enterprise to have real-time access to your most critical system parameters and metrics in real-time using real-time reports software.

Utilizing the data gleaned by SolidSuite™'s integration with barcode scanners, RF tag readers, conveyor, and machine controls, SWR™ allows capturing real-time information about your production process. Flexible and easy to use, the system provides a detailed graphical analysis for virtually any manufacturing or distribution process. All images or videos can be archived for later review.
Real-Time Web Camera Views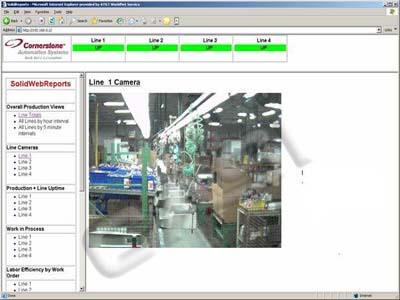 SWR™ Warehouse Inventory Reporting Software provides a real-time view of the customer's facility utilizing web cameras built into the report view. This view can be historical or live. SWR™ includes up to four cameras at no extra charge.
Standard Reports
All production line totals by hour
Daily production total
Production line speed five-minute period
Production downtime daily total
Barcode Scanner detail with breakout of fixed position, hand held and manual entry by minute, hour and daily total
Production line downtime histogram per line
Production line downtime histogram for all lines
Production line downtime reason by five-minute period
Track record hours by line for each day
Up to 10 custom reports