SolidPick™ is an operator prompted split case order picking software system used to streamline pick modules. SolidPick™ saves time and labor by automating the item selection process and providing automated feedback via CASI Core picking interface or SolidSuite 2010 web based applications using .Net technology. The software can interface a number of picking technologies including pick to light, pick to monitor, voice picking, and more.
Applications
Order Fulfillment
Pick & Pass (Zone Routing)
Picking using RF Scanners
Picking using Voice Terminals
Picking using Pick to Light Modules
Pick to Belt Applications
Batch Picking
Pick to Cart
Paperless Order Picking
Built In Real-Time Management Reports
SolidPick™ order picking software provides real-time statistics on picker efficiency & error rate using the included reports and statistics. WAN web reporting tools can be added using SolidWebReports™, allowing an enterprise-wide view of the operation via the internet. The reporting tools serve as an invaluable asset managing consumables consumption and providing real-time views of throughput. In addition, all data can be exported for using in other applications such as Excel, Access or report generators such as Crystal.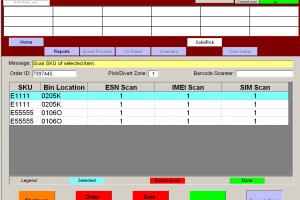 Designed To Integrate With Other SolidSuite™ Modules
SolidPick™ utilizes the SolidComm™ data management module as a versatile single point interface into legacy applications such as WMS, ERP and existing conveyor controls.  Unlike many standard WMS products, SolidPick™ is designed to integrate seamlessly with conveyor automation like SolidRoute™ in zone route, pick to belt, pick and pass and carousel applications.