SolidPack™ is an operator prompted order packing software system for variable split case pack stations used to streamline manual carton packing operations. SolidPack™ saves time & labor by automating the carton selection process and providing an automated quality control functionality for pick -n-pack areas. SolidPack™ prevents picking errors from being shipped saving you time and money.
Applications
Pick and Pack
Product Fulfillment
Proof of Fulfillment
Kitting
Order Consolidation
100% order QC
RF Shipping
Shipping Error Prevention
Proof of Fulfillment
Each SolidPack™ station includes the functionality to capture the fulfillment process in triggered frame video. This allows the user to reconstruct the fulfillment process and provide proof of fulfillment.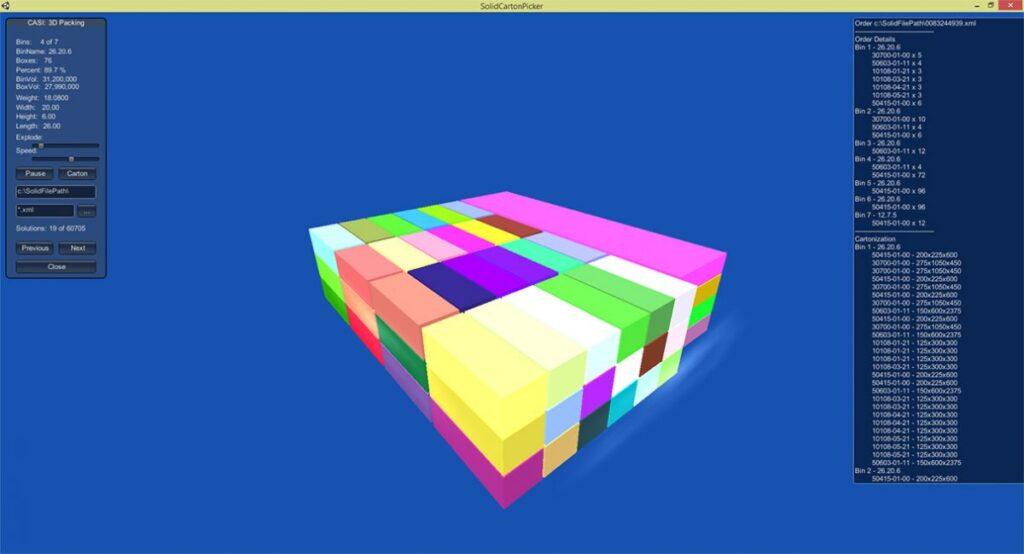 Barcode Scan Capture
SolidPack™ can capture and archive each barcode scan associated with any pick & pack operation.
Built in Real-Time Management Reports
SolidPack™ order packing software system provides real-time statistics on packer efficiency & error rate is possible using the included reports and statistics. WAN web reporting tools can be added using SolidWebReports™, allowing an enterprise-wide view of the operation via the internet. In addition, all production data can be exported for use in other applications such as Excel, Access, or report generators such as Crystal.
Designed to Integrate With Other SolidSuite™ Modules
SolidPack™ utilizes the SolidComm™ data management module as a versatile single point interface into legacy applications such as WMS, ERP and existing conveyor controls. The reporting tools serve as an invaluable asset managing consumables consumption and providing real-time views of throughput.