SolidCount™ is an advanced order auditing software that integrates fixed position barcode scanners, RF tag readers, and conveyor controls producing dynamic production counting information and management reports.
SolidCount™ Applications
Order Fulfillment
Returns Processing
Automatic Receiving
Real-time Statistical Production Data
Multi – Production Line Real-time Reporting
Production Data Archiving
Automated Data Collection
Single Point of Control
Designed as a single point of control for production counting, automated order auditing, and receiving, SolidCount™ order auditing software seamlessly integrates with fixed position scanners, RF tag readers and conveyor controls.
Designed to Integrate with Other SolidSuite™ Modules
SolidCount™ utilizes the SolidComm™ data management module as a versatile single point interface into legacy applications such as WMS, ERP, and existing conveyor controls. The reporting tools serve as an invaluable asset managing consumables consumption and providing real-time views of throughput.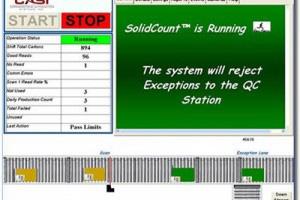 Integrated Reporting
SolidCount™ is designed to maintain the last two months of accurate production statistics. Superior production reporting and scheduling is possible using the included reports and statistics. In addition, all production data can be exported for using in other applications such as Excel, Access or report generators such as Crystal.