SolidLabel™ is automated labeling software for verification and package distribution. The SolidLabel™ system is designed to control the flow and handling of cartons for labeling. The unique design of SolidLabel™ ensures precise label placement and prevents mislabeling of cartons by managing carton accumulation prior to the labeler.
SolidLabel™ Applications
Manufacturing Product Labeling
Order Fulfillment
Compliance Labeling
RF Tag Compliance
Automatic Price Labeling
Cross Dock Labeling
Automatic Freight Manifesting
Automatic Shipping Labeling
Custom Labeling Applications
Single Point of Control
Designed as a single point of control for weighing and labeling, SolidLabel™ automated labeling software seamlessly integrates with fixed position scanners, RF tag readers, in line scales and conveyor controls. SolidLabel™ utilizes the SolidComm™ data management module as a versatile single point interface into legacy applications such as WMS, ERP and existing conveyor controls. The reporting tools serve as an invaluable asset managing consumables consumption and providing real-time views of throughput.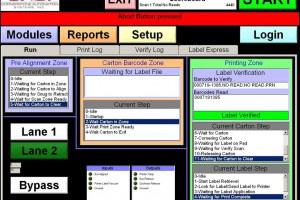 Designed to Integrate With Other SolidSuite™ Modules
SolidLabel™ can be combined with the other SolidSuite™ modules to handle zone routing, packing and sortation and in-line manifest. SolidComm™ provides a reliable interface into legacy applications such as WMS, ERP and MRP.
All control is delivered from the rugged CASI CORE industrial PC for integrated applications where WCS functions such as weighing, labeling or sortation are required. CASI controllers use solid state data storage, a 23-inch widescreen high resolution Human Machine Interface (HMI) and the programming and network flexibility only a Windows 7 product can deliver.
The CASI CORE offers standard Ethernet & serial and optional DeviceNet, Profibus, Modbus and Ethernet/IP as options.
Typical SolidLabel™ Components
CASI CORE Control Console with SolidLabel™
Inbound scanner(s) or RF Tag Reader
Printer Label Applicator
Label Confirmation Scanner
Conveyor Control
Manual Processing Station