#1 Choice For Powered Flexible Conveyor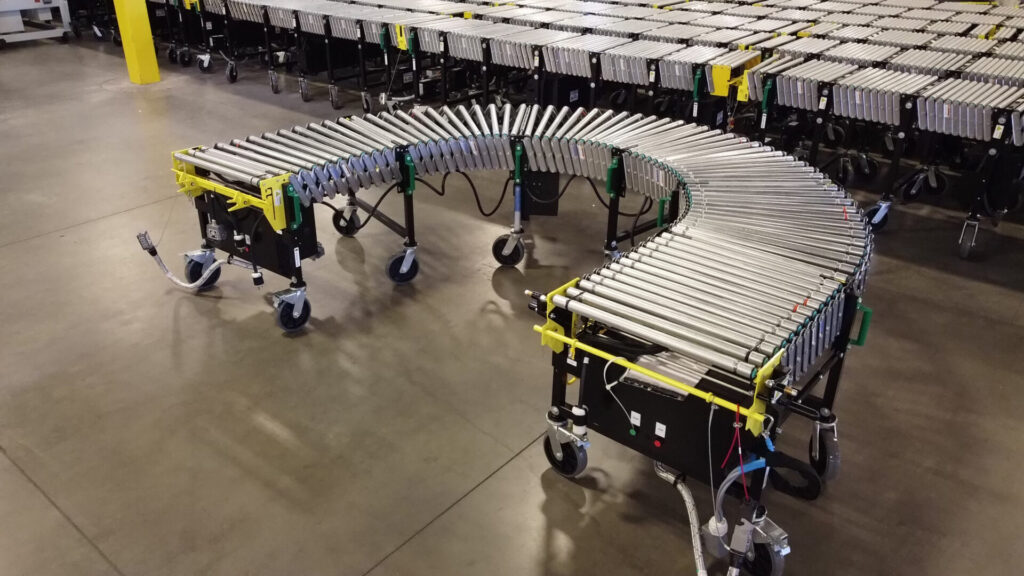 Jump To
Experience the power of automation with CASi-Conveyor PowerFlex. Equipped with advanced sensors and intelligent controls, it ensures precise movement, accurate sorting, and efficient material flow. Real-time monitoring and intelligent software provide full visibility into your operations, allowing you to make data-driven decisions and optimize your supply chain.
Our powered flexible conveyor provides a flexible material handling transport solution in a constantly changing, dynamic warehouse environment. This expandable, powered flexible conveyor can move and bend as needed to allow for adapting in any shipping and receiving application.
DURABLE
Robust Design
Heavy-duty conveyor rollers
Capacity up to 100 lb/linear ft.
FLEXIBLE
Modular construction
Compact storage
Adjustable heights
8" Locking casters for easy mobility
EFFICIENT
Variable speed settings
Efficient 24-Volt Power
Available in two styles

Precision material handling is required
Integration with other conveyors or other systems
Package scanning and sortation may be required

You want to transport product from point A to point B
The purchase price is the most important
Faster loading and unloading in certain applications
CASi-Conveyor PowerFlex Brochure
Our powered flexible conveyor runs on 24-volt power and has zero pressure accumulation (ZPA) to prevent product damage with integrated photo eye sensors. A great feature for high-volume truck loading and unloading applications.
All of our powered roller conveyor systems are made in America. Ready to take the next step? Contact us today at [email protected] to learn more about CASI Conveyors and how we can transform your material handling processes. Don't settle for less when you can optimize with the best.